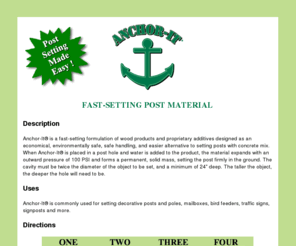 Anchor-It Quick Set Post Material
Description:
Anchor-It® is a fast-setting formulation of wood products and proprietary additives designed as an economical, environmentally safe, safe handling, and easier alternative to setting posts with concrete mix. When Anchor-It® is placed in a post hole and water is added to the product, the material expands with an outward pressure of 100 PSI and forms a permanent, solid mass, setting the post firmly in the ground. Anchor-It® contains green, natural non-toxic proprietary additives that serve as a preservative, binding agent, and all-natural insect repellant. The cavity must be twice the diameter of the object to be set, and a minimum of 24
Keywords:
anchor, anchor-it, anchor it, post material, quick set, quick set post material, set post, fast setting, fast set, environmentally safe, post hole, solid mast, non-toxic, binding agent, insect repellent, all natural, safe handling, easy alternative, set post, setting post, alternative to concrete
Tags:
anchorit
,
post
,
set
,
anchor
,
material
,
quick
,
setting
,
safe
,
fast
,
alternative
,
natural
,
Anchorit.info
Content Revalency: Title: 0.00% Description: 0.00% Keywords: 0.00% | Document size: 7,334 bytes
More info: Whois - Trace Route - RBL Check
ANCHORIT.INFO - Site Location
Country/Flag
United States
City/Region/Zip Code
Turner, Oregon 97392
Organization
Willamette Valley Internet, L.L.C.
Internet Service Provider
Willamette Valley Internet, L.L.C.
ANCHORIT.INFO - Domain Information
Domain
ANCHORIT.INFO [ Traceroute RBL/DNSBL lookup ]
Registrar
Register.com, Inc. (R140-LRMS)
Whois server
whois.afilias.info
Created
12-May-2003
Updated
26-Jan-2010
Expires
12-May-2014
Time Left
204 days 8 hours 17 minutes
Status
CLIENT TRANSFER PROHIBITED
DNS servers
GATEWAY.WVI.COM 204.119.27.10
VOYAGER.VISER.NET VOYAGER.VISER.NET

Site Response Header
Response
HTTP/1.1 200 OK
Server
Apache/1.3.41 (Unix) PHP/5.2.8 mod_layout/1.0 mod_fastcgi/2.4.2 mod_perl/1.30 mod_ssl/2.8.31 OpenSSL/0.9.8g
Date
Thu, 07 Apr 2011 20:42:21 GMT
Content-Type
text/html