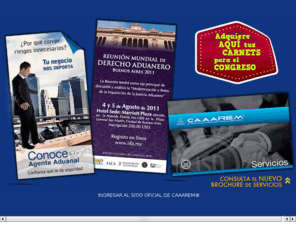 DMOZ Information
CAAAREM, Mexico´s National Custom Broker Confederation
Trade association for businesses in foreign trade and international logistic services. Describes technical assistance and training available to members. [English/Spanish]

Top/Regional/North_America/Mexico/Business_and_Economy/Shipping,_Storage,_and_Logistics
http://www.caaarem.org.mx

Caaarem.org.mx has 1 URLs listed in 2 Dmoz categories.

Related Sites: Eximbroker.com.mx , Almex.com.mx , Geasa.com.mx , Pondisa.com , Mexicotrucking.com , Comandos.com.mx , Transcontainer-group.com , Mudanzasgou.com.mx , Koramex.com , Joalvarez.com ,
CAAAREM.ORG.MX - Site Location
Country/Flag
Mexico
City/Region/Zip Code
Mexico, Distrito Federal -
Organization
Alestra, S. de R.L. de C.V.
Internet Service Provider
Alestra, S. de R.L. de C.V.
Site Response Header
Response
HTTP/1.1 200 OK
Server
Lotus-Domino
Date
Sat, 09 Apr 2011 16:33:20 GMT
Content-Type
text/html; charset=US-ASCII