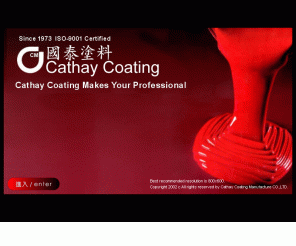 DMOZ Information
Cathay Coating Manufacture Co.Ltd
Manufacture architectural and epoxy floor coatings, polyurethane waterproofings, and synthetic sports surface materials.

Top/Business/Chemicals/Polymers/Plastics/Resins_and_Compounds/Polyurethane
http://www.cathaycoating.com.tw

Cathaycoating.com.tw has 1 URLs listed in 1 Dmoz categories.

Related Sites: Alphagary.com , Demon.co.uk , Urethanetechnology.com , Ipsinc.com , Maskimi.com.my , Cpr-polyurethanes.it , Quimicapumex.com.mx , Polyall.com , Trekollan.se , Unionchem.co.kr ,
CATHAYCOATING.COM.TW - Site Location
Country/Flag
Taiwan
City/Region/Zip Code
Taipei, T'ai-pei -
Organization
CHTD, Chunghwa Telecom Co., Ltd.
Internet Service Provider
CHTD, Chunghwa Telecom Co., Ltd.
CATHAYCOATING.COM.TW - DNS Information
IP Address
211.23.28.156 ~ Whois - Trace Route - RBL Check

Domain Name Servers
dns.cathaycoating.com.tw

Mail Exchange
dns.cathaycoating.com.tw

Site Response Header
Response
HTTP/1.1 200 OK
Server
Microsoft-IIS/5.0
Date
Thu, 06 Aug 2009 07:31:59 GMT
Content-Type
text/html