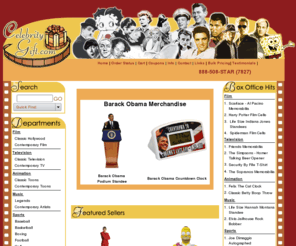 standee, standups, barack obama merchandise, barack obama bobblehead, filmcells
Keywords:
betty boop merchandise, donald trump doll, george bush doll, i love lucy collectible, scarface memorabilia, simpsons merchandise, simpsons clock, betty boop clock, stars behind bars, political gifts, three stooges t-shirt, elvis presley, scene it, movie trivia game, sopranos autograph, talking presidents, bill clinton doll, I love lucy, the simpsons, spongebob, wizard of oz, gone with the wind, the sopranos, celebrity, derek jeter autograph, yu gi oh, star wars, dragonball z, celebrity photo, collectible, andy griffith, autograph, don knotts, barney fife photo, lithograph, bobblehead, bewitched, hello kitty, speed racer mach 5, george bush punching bag, gene simmons doll, john belushi animal house, hollywood memorabilia, music memorabilia, casablanca, harry potter, popeye, curious george furniture, bob the builder, speed racer, strawberry shortcake, scene it disney
Tags:
celebritygift
,
celebrity
,
barack
,
obama
,
info
,
order
,
testimonials
,
contact
,
home
,
links
,
coupons
,
bulk
,
status
,
pricing|
,
cart
,
merchandise
,
bobblehead
,
filmcells
,
standee
,
standups
,
com
,
Celebritygift.com
Content Revalency: Title: 0.00% Description: 0.00% Keywords: 0.00% | Document size: 53,587 bytes
More info: Whois - Trace Route - RBL Check
DMOZ Information
CelebrityGift.com
Film, TV, sports, and science fiction related merchandise, primarily photographs.

Top/Shopping/Antiques_and_Collectibles/Celebrity_Memorabilia
http://celebritygift.com

Celebritygift.com has 1 URLs listed in 1 Dmoz categories.

Related Sites: Vividvision.com , Truelegends.com , Celebriducks.com , Celebritycollectables.com , Celebritydollars.com , Hauntedstudios.com , Moviemugs.com , Elifesize.com , Startifacts.com , Bouff.tv ,
CELEBRITYGIFT.COM - Site Location
Country/Flag
United States
City/Region/Zip Code
Sunnyvale, California 94089
Organization
Yahoo
Internet Service Provider
Yahoo!
CELEBRITYGIFT.COM - Domain Information
Domain
CELEBRITYGIFT.COM [ Traceroute RBL/DNSBL lookup ]
Registrar
GODADDY.COM, LLC
Registrar URL
http://registrar.godaddy.com
Whois server
whois.godaddy.com
Created
27-Jan-2003
Updated
09-Jan-2013
Expires
27-Jan-2015
Time Left
475 days 19 hours 15 minutes
Status
clientDeleteProhibited clientRenewProhibited clientTransferProhibited clientUpdateProhibited
DNS servers
NS5.STORE.YAHOO.COM 216.252.126.226
ST-NS1.YAHOO.COM 209.191.66.175

Site Response Header
Response
HTTP/1.1 200 OK
Date
Sat, 09 Apr 2011 22:35:49 GMT
Content-Type
text/html
Cookie
BX=6pugmkp6q1nq5&b=3&s=u9; expires=Tue, 02-Jun-2037 20:00:00 GMT; path=/; domain=.celebritygift.com