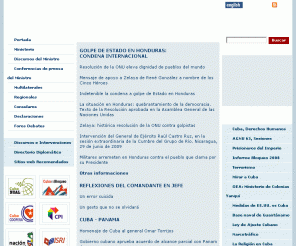 Ministerio de Relaciones Exteriores de Cuba
Description:
Ministerio de Relaciones Exteriores
Keywords:
cuba, cubaminrex, relaciones exteriores, política exterior cubana , relaciones, exteriores, visita del canciller, recibe a canciller cubano, encuentro del primer Ministro, recibe Raúl a , cinco cubanos luchadores, cinco jóvenes cubanos, prisioneros del imperio, injusto bloqueo, conferencia de prensa ofrecida por, derechos humanos en Cuba, humanos con derecho, Ministerio de Relaciones Exteriores, fidel, raúl, felipe, discurso, informe, declaración, nota, oficial, antiterroristas, jóvenes, prisioneros, imperio, bloqueo, injusto, informe, intervención, conferencia, llamamiento, canciller, libertad, solidaridad, terrorismo, derechos, terrorismo, bush, medidas, plan, visita, consejo, genocidio, prisión, otorgan, condecoración, gobierno, onu, nota verbal, secretario, viceministro, director, ejecutivo, nación, cooperación, mandatario, america latina, asia, africa, europa, ee.uu, obama, presidente, primer ministro, comunicado conjunto, felipe perez roque, conversaciones oficiales, colaboración, ginegra, triunfo, jose marti, visita, alba, revolución, pueblo cubano, emigrados, llamamiento, libertad, guantánamo, embajada, castro
Tags:
cubaminrex
,
cuba
,
relaciones
,
exteriores
,
ministerio
,
bloqueo
,
del
,
sitio
,
cubano
,
los
,
internacional
,
oacute
,
pueblo
,
cooperación
,
oficial
,
nación
,
noal
,
emmigración
,
alineados
,
cubacoop
,
contra
,
ministro
,
mundo
,
debates
,
foros
,
eacute
,
informaciones
,
cubana
,
prensa
,
embajadas
,
canciller
,
internacionales
,
por
,
fidel
,
primer
,
recibe
,
instituto
,
escribir
,
webmaster
,
presidente
,
Cubaminrex.cu
DMOZ Information
Cuba
History of Cuba-China relations, directory of staff, and information on consular services and Cuban culture. In English, Spanish and Chinese.

Top/Regional/Asia/China/Government/Embassies_and_Consulates/Foreign
http://embacuba.cubaminrex.cu/chinach

Cubaminrex.cu has 27 URLs listed in 34 Dmoz categories.

Related Sites: Austemb.org.cn , Norway.org.cn , Usembassy-china.org.cn , Azerbembassy.org.cn , Mfa.gov.sg , Iceland.org , Czechembassy.org , Diplomatie.be , Hollandinchina.org , Russia.org.cn ,
CUBAMINREX.CU - Site Location
Country/Flag
Cuba
City/Region/Zip Code
La Habana, Camaguey -
Organization
Servicios Empresariales
Internet Service Provider
Empresa de Telecomunicaciones de Cuba, S.A.
Site Response Header
Response
HTTP/1.1 302 Object moved
Server
Microsoft-IIS/5.0
Date
Mon, 19 Oct 2009 05:08:42 GMT
Content-Type
text/html
Cookie
ASPSESSIONIDQSACCQSD=FIJCOGDAMBIFGJILHAOMBBNK; path=/