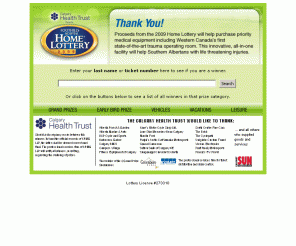 Foothills Hospital Home Lottery
Description:
You could be the next big winner! The 2011 Foothills Hospital Home Lottery has 8,275 incredible prizes to be won, such as an extraordinary $2.4 million Grand Prize Showhome, an enviable $1 million Grand Prize Showhome, and an Early Bird Prize of a 2012 Bentley Continental GT or $215,000 Cash! Visit us online and join the discussion. Order your tickets now!
Keywords:
foothills home lottery foothills lottery foothills hospital home lottery foothillshospitalhomelottery.org foothills hospital lottery foothills home lottery 2011 foothills hospital Calgary home lottery Calgary foothills lottery Calgary foothills hospital lottery 2011 foothills home lotto www.foothillshospitalhomelottery.org foothillshospitalhomelottery home lottery Calgary home lottery foothills lottery 2011 Calgary foothills lottery foothills hospital home lottery 2011 Calgary hospital lottery Calgary home lottery 2011 foothills hospital Calgary lottery Calgary lottery foothills home lottery Calgary foothill home lottery foothills lottery home 2011 foothills lottery show home foothillshomelottery foothillshomelottery.org foothills hospital home lottery Calgary foothills lotto foothill hospital home lottery foothills hospital foothills hospital home lotto foothills hospital lottery Calgary foothill lottery hospital home lottery Calgary foothills home lottery foothillshospitalhomelottery.com Calgary foothills hospital lottery foothillshospitallottery foohillslottery home lotto Calgary hospital home lottery Calgary
Tags:
foothillshospitalhomelottery
,
lottery
,
foothills
,
home
,
hospital
,
prize
,
grand
,
prizes
,
tickets
,
bird
,
early
,
vacations
,
vehicles
,
order
,
news
,
add
,
proceeds
,
votes
,
privacy
,
site
,
map
,
comment
,
more>>
,
rules
,
vote
,
main
,
calgary
,
won
,
subscribe
,
share
,
million
,
bentley
,
continental
,
incredible
,
want
,
miss
,
sold
,
win
,
licence
,
worth
,
Foothillshospitalhomelottery.com
Content Revalency: Title: 25.00% Description: 28.89% Keywords: 6.67% | Document size: 16,922 bytes
Quantcast rank: #959,697 More info: Whois - Trace Route - RBL Check
FOOTHILLSHOSPITALHOMELOTTERY.COM - Site Location
Country/Flag
Canada
City/Region/Zip Code
Saskatoon, Saskatchewan -
Organization
Quadrant Newmedia Corp.
Internet Service Provider
Quadrant Newmedia Corp.
FOOTHILLSHOSPITALHOMELOTTERY.COM - Domain Information
Domain
FOOTHILLSHOSPITALHOMELOTTERY.COM [ Traceroute RBL/DNSBL lookup ]
Registrar
TUCOWS DOMAINS INC.
Registrar URL
http://domainhelp.opensrs.net
Whois server
whois.tucows.com
Created
09-Dec-2001
Updated
27-Nov-2012
Expires
09-Dec-2013
Time Left
76 days 21 hours 27 minutes
Status
clientTransferProhibited clientUpdateProhibited
DNS servers
INDIGO.QUADRANT.NET 204.8.72.9
NS.QUADRANT.NET 204.8.72.250

Site Response Header
Response
HTTP/1.1 302 Found
Server
Apache/2.2.17 (FreeBSD) mod_ssl/2.2.17 OpenSSL/1.0.0d DAV/2 mod_python/3.3.1 Python/2.6.4 PHP/5.2.17
Date
Mon, 11 Apr 2011 14:01:32 GMT
Content-Type
text/html