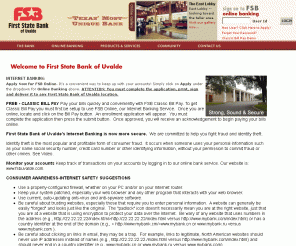 First State Bank of Uvalde
Description:
First State Bank of Uvalde is the largest, locally owned, independent Bank located between San Antonio and El Paso. The Bank's Senior Chairman of the Board is former Texas Governor Dolph Briscoe Jr. The bank is housed in what the
Keywords:
uvalde, uvalde chamber of commerce, bank, banks, banking, fsb, first state bank, first state bank of uvalde, tx banks, community banks, independent local banks, trust services, loans, city of uvalde, honey capitol, dolph briscoe.
Tags:
fsbuvalde
,
bank
,
uvalde
,
state
,
card
,
debit
,
safety
,
atm
,
services
,
www
,
apply
,
gov
,
fdic
,
accounts
,
community
,
banks
,
fraud
,
banking
,
click
,
identity
,
theft
,
eftps
,
user
,
visit
,
gallery
,
new
,
tips
,
trust
,
online
,
loans
,
personal
,
links
,
security
,
briscoe
,
dolph
,
independent
,
contact
,
information
,
products
,
history
,
Fsbuvalde.com
Content Revalency: Title: 60.00% Description: 12.90% Keywords: 31.82% | Document size: 32,912 bytes
More info: Whois - Trace Route - RBL Check
FSBUVALDE.COM - Site Location
Country/Flag
United States
City/Region/Zip Code
New Berlin, Wisconsin -
Organization
AT&T Data Communications Services
Internet Service Provider
AT&T Services
FSBUVALDE.COM - Domain Information
Domain
FSBUVALDE.COM [ Traceroute RBL/DNSBL lookup ]
Registrar
NETWORK SOLUTIONS, LLC.
Registrar URL
http://www.networksolutions.com/en_US/
Whois server
whois.networksolutions.com
Created
12-Oct-2000
Updated
05-Sep-2013
Expires
12-Oct-2022
Time Left
3305 days 9 hours 6 minutes
Status
clientTransferProhibited
DNS servers
PDNS1.ULTRADNS.NET 204.74.108.1
PDNS2.ULTRADNS.NET 204.74.109.1
PDNS3.ULTRADNS.ORG 199.7.68.1
PDNS4.ULTRADNS.ORG 199.7.69.1
PDNS5.ULTRADNS.INFO 204.74.114.1
PDNS6.ULTRADNS.CO.UK 204.74.115.1

Site Response Header
Response
HTTP/1.1 200 OK
Date
Mon, 11 Apr 2011 16:35:02 GMT
Content-Type
text/html
Cookie
ASPSESSIONIDQCTCSRQB=JKADPLABJDLEFCOKIOONFHCE; path=/