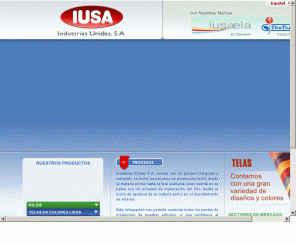 DMOZ Information
Industrias Unidas SA
El Salvador. Vertically integrated textile manufacturing company. Air-jet woven, yarn and solid dyed, printed and finished fabrics for apparel, bedding and furnishing applications, from cotton and blends with polyester. Also, combed ring spun yarns. Engl

Top/Business/Textiles_and_Nonwovens/Textiles/Fabrics/Mixed_Blends/South_America
http://www.iusa.com.sv/

Iusa.com.sv has 2 URLs listed in 3 Dmoz categories.

Related Sites: Guilford.com.ar , Protela.com , Textileslaescala.com , Textilecuador.com , Textileslafayette.com ,
IUSA.COM.SV - Site Location
Country/Flag
El Salvador
City/Region/Zip Code
San Salvador, San Salvador -
Organization
S.A. de C.V.
Internet Service Provider
S.A. de C.V.
Site Response Header
Response
HTTP/1.1 200 OK
Server
Microsoft-IIS/6.0
Date
Tue, 13 Apr 2010 11:24:13 GMT
Content-Type
text/html