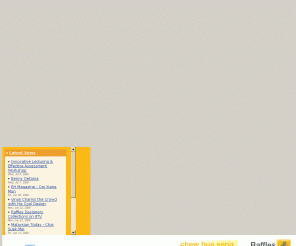 Raffles International College Kuala Lumpur Malaysia : Design College in Malaysia Art College Malaysia Kuala Lumpur : Fashion Design Visual COmmunication Interactive Media Interior Design psychology college malaysia
Description:
Raffles International College Kuala Lumpur Malaysia (formerly known as LaSalle International Design School) is part of Raffles Education Corporation that operates 3 universities and 25 colleges in Australia, China, India, Malaysia, Mongolia, New Zealand, Singapore, Thailand and Vietnam. Raffles International College Kuala Lumpur offers a broad range of courses in design, business and psychology. Our industry-focused design courses provide practical vocational skills where emphasis is placed on nurturing designers not technicians. Our business courses offer students pursuing a business qualification the opportunity to study in a creative learning environment with a flexible study schedule. Alternatively, busy executives can complete their studies via distance learning. Psychology students will benefit from the many real case studies and actual clinical internship postings. As Asias largest education provider with 28 locations around the region, our students have the flexibility to start their course in one city and transfer to another location within our group to complete their qualification. We award and collaborate with Australian and UK university partners to offer internationally accredited Advanced Diplomas, Bachelor and Postgraduate qualifications that are valued by the industry and ensure our graduates get a head-start in their chosen field. We offer Diploma in Visual Communication, Graphic Design, Interactive Media, Multimedia Design, Digital Animation, Illustration , Fashion Design, Interior Design, Fashion Marketing & Management, Jewellery Design , Business Marketing, Applied Psychology , Master of Business Administration (MBA) ,MSc in Management ,MSc in Finance , MSc in Marketing ,MSc in Mass Communications ,and twinning programs
Keywords:
Raffles Design Institute psychology college malaysia, Raffles International College, Graphic Design School Malaysia, Graphic Design School Kuala Lumpur, Graphic Design College Malaysia, Graphic Design College Kuala Lumpur, Design college, Malaysia, education, training, art schools, private, KL, Kuala Lumpur, KLCC, Jalan Ampang, twinning programmes, courses, further study, creative, art & design, advertising, multimedia, digital animation, interior design, illustration, photography, game development, diploma & degree, web design, film, graphic, interactive media, motion graphic, Jewellery Design, Interior Design, Fashion Design, new media, award, scholarship, gallery, exhibition, career, intake, design enterprise, art design college malaysia, graphic design kuala lumpur malaysia, KLCC , jalan ampang
Tags:
college
,
raffles
,
international
,
edu
,
design
,
malaysia
,
lumpur
,
kuala
,
university
,
foundation
,
seng
,
email
,
login
,
chew
,
hua
,
art
,
interior
,
psychology
,
media
,
fashion
,
interactive
,
communication
,
visual
,
graphic
,
Raffles-international-college.edu.my
Content Revalency: Title: 0.00% Description: 0.00% Keywords: 0.00% | Document size: 7,157 bytes
More info: Whois - Trace Route - RBL Check
RAFFLES-INTERNATIONAL-COLLEGE.EDU.MY - Site Location
Country/Flag
Singapore
City/Region/Zip Code
-, - -
Organization
Iconz-Webvisions Pte.
Internet Service Provider
Iconz-Webvisions Pte.
Site Response Header
Response
HTTP/1.1 200 OK
Server
Microsoft-IIS/6.0
Date
Tue, 04 Aug 2009 22:47:06 GMT
Content-Type
text/html