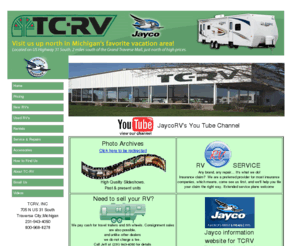 TCRV Norther Michigan RV Dealer, RV Rentals, Toy Haulers, Used RVs.
Description:
TCRV is Northern Michigan's local RV dealer, located in Traverse City, Michigan. Our entire inventory is listed with the description and no hassle price for each RV. We stock a wide selection of Coachmen, Winnebago, Fleetwood, T@b by Dutchman, used motor homes and travel trailers. We offer full service and an extensive parts department.
Keywords:
TCRV, Traverse City, Coachmen, Winnebago, Fleetwood, Tab, T@b, Dutchman, Trail-Lite, used motor homes, Travel trailer, popup, tent camper, price, RV, service, RV parts, camping, Northern Michigan, used popups, RV Service, accessories, RV accessories, RV parts, RV sales, TC-RV, Traverse City RV, Traverse City Recreation Vehicles, Traverse City Campers, RV Rentals, Traverse City Camping, Campers, R-Vision, Coleman, Motorhomes, Motor homes, Jayco, Trail-lite, Trail lite, Trail Light, Trail bay, Trail cruiser, Jay feather, Kiwi, Kiwi II, Jay Flight, Eagle, Cascade, Catalina, Lite, Designer, Legacy, Brave, Sportscoach, Adventurer, Sightseer, Freelander, Freedom, B+, B Plus, Fleetwood, Captiva, Spirit Of America, Chaparral, Aurora, Mirada, Santara, Leprechaun, Concord, Minnie, Folding Camper, RV Rentals, Camper rentals, Mortorhome rentals, Motor home rentals, Trailer rental, Used travel trailer, New Motorhomes, Go RV, Go RVing, RV rental, Recreation vehicle rentals, Eagle, Eagle super lite, Pinnacle, Jay Feather, Jay Flight G2, No Hassle pricing.
Tags:
tcrv
,
quantcast
,
rentals
,
used
,
michigan
,
home
,
service
,
dealer
,
click
,
email
,
new
,
haulers
,
norther
,
rvs
,
toy
,
accessories
,
pricing
,
videos
,
repairs
,
banner
,
page
,
return
,
jayco
,
parts
,
city
,
traverse
,
sales
,
price
,
jay
,
priced
,
just
,
flight
,
right
,
swift
,
cute
,
slxsuper
,
located
,
department
,
trail
,
motor
,
Tcrv.com
Content Revalency: Title: 40.00% Description: 20.00% Keywords: 19.77% | Document size: 24,937 bytes
More info: Whois - Trace Route - RBL Check
DMOZ Information
TC-RV, Inc.
Sales, service, and rentals of new and used campers, recreational vehicles, travel trailers, motor homes, and accessories. Includes inventory, rental rates, hours, location map, and camping links.

Top/Regional/North_America/United_States/Michigan/Localities/T/Traverse_City/Business_and_Economy/Automotive
http://www.tcrv.com/

Tcrv.com has 1 URLs listed in 1 Dmoz categories.

Related Sites: Bearcollision.com , Tribalmotorworks.com , Northernautoservice.com , Northwest4x4.com , Sullivanautoclinic.com , Rtechautobody.com , Allautomotivetc.com , Grandtraversetransmission.com , Procarcarezone.com , Toplineusa.net ,
TCRV.COM - Site Location
Country/Flag
United States
City/Region/Zip Code
Miami, Florida 33132
Organization
Data Return Infinistructure
Internet Service Provider
Terrenap Data Centers
TCRV.COM - Domain Information
Domain
TCRV.COM [ Traceroute RBL/DNSBL lookup ]
Registrar
GODADDY.COM, LLC
Registrar URL
http://registrar.godaddy.com
Whois server
whois.godaddy.com
Created
03-Jun-2002
Updated
24-Oct-2012
Expires
03-Jun-2020
Time Left
2443 days 20 hours 52 minutes
Status
clientDeleteProhibited clientRenewProhibited clientTransferProhibited clientUpdateProhibited
DNS servers
DNS1.STABLETRANSIT.COM 69.20.72.211
DNS2.STABLETRANSIT.COM 65.61.166.102

Site Response Header
Response
HTTP/1.1 200 OK
Server
Microsoft-IIS/7.0
Date
Sun, 17 Apr 2011 11:40:00 GMT
Content-Type
text/html; charset=utf-8
Cookie
AnonymousUser=PartnerID=&PartnerSiteID=-2&ReferingSiteName=&SiteID=5; path=/