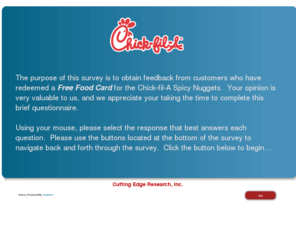 Survey | Qualtrics Survey Software
Description: Survey Software, Enterprise Survey software for enterprise feedback management and CRM solutions. Enables high-quality data collection, panel management and results analysis. Perfect for market research or CRM solution (Customer Relationship Management) integration. Free trial and consultation.
Keywords: enterprise survey software, survey software, email survey software, web survey software, internet survey software, online survey software, online survey, employee satisfaction survey, customer satisfaction survey, customer survey, market research, survey templates, employee survey, web survey, customer service survey, employee opinion survey, survey hosting, qualtrics.com
Tags: survey, qualtrics, survey5, ceoro, software, research, edge, cutting, customer, management, using, version, click, enterprise, employee, feedback, free, opinion, crm, market, online, satisfaction, web, time, valuable, appreciate, taking, nuggets, chick, redeemed, customers, food, card, fil, complete, spicy, select, navigate, located, buttons,
Ceoro-survey5.com
Content Revalency: Title: 50.00% Description: 14.29% Keywords: 22.22% | Document size: 10,000 bytes
More info: Whois - Trace Route - RBL Check
CEORO-SURVEY5.COM - Site Location
Country/Flag
United States
City/Region/Zip Code
Sunnyvale, California, 94089
Organization
Yahoo!
Internet Service Provider
Yahoo!
CEORO-SURVEY5.COM - Domain Information
Domain
CEORO-SURVEY5.COM [ Traceroute RBL/DNSBL lookup ]
Registrar
TUCOWS DOMAINS INC. TUCOWS, INC.
Registrar URL
http://www.tucowsdomains.com
Whois server
whois.tucows.com
Created
19-May-2008
Updated
14-Jun-2016
Expires
19-May-2017
Time Left
0 days 0 hours 0 minutes
Status
ok https://icann.org/epp#ok ok https://icann.org/epp#ok
DNS servers
YNS1.YAHOO.COM 66.218.71.205
YNS2.YAHOO.COM 66.196.84.168

Site Response Header
Response
HTTP/1.0 302 Found
Server
Apache
Date
Sat, 09 Apr 2011 23:15:07 GMT
Content-Type
text/html; charset=UTF-8