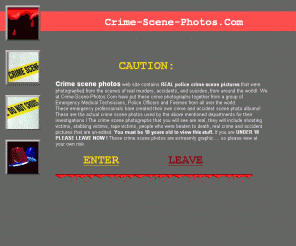 Crime scene photos real police photo investigation
Description: Real police crime scene photos from murders, accidents, and suicides from around the world.
Keywords: crime scene photo, police investigation , faces of death, murder , police crime photo, face of death, death photo, death picture, murder pic
Tags: crime, scene, photos, com, police, photo, investigation, real, death, best, murder, face, now, contact, ente, order, site, tables, ford, pictures, craps, map, from, accidents, world, suicides, murders, around, faces, pic, picture,
Crime-scene-photos.com
DMOZ Information
Crime Scene Photo
Crime scene photos from real police files.

Top/Adult/Death_and_Gore
http://www.crime-scene-photos.com/

Crime-scene-photos.com has 1 URLs listed in 1 Dmoz categories.

Related Sites: Crimethroughtime.com , Rotten.com , Findadeath.com , Geocities.com , Everwonder.com , Corpseoftheweek.com , Goregasm.com , Fortunecity.com , Smyw.com , Cadaver.org ,
CRIME-SCENE-PHOTOS.COM - Site Location
Country/Flag
United States
City/Region/Zip Code
Atlanta, Georgia, 30303
Organization
Total Server Solutions L.L.C.
Internet Service Provider
Total Server Solutions L.L.C.
CRIME-SCENE-PHOTOS.COM - Domain Information
Domain
CRIME-SCENE-PHOTOS.COM [ Traceroute RBL/DNSBL lookup ]
Registrar
Wild West Domains, LLC
Whois server
whois.verisign-grs.com
Created
03-Apr-2002
Updated
04-Apr-2017
Expires
--
Time Left
0 days 0 hours 0 minutes
Status
clientDeleteProhibited https://icann.org/epp#clientDeleteProhibited clientRenewProhibited https://icann.org/epp#clientRenewProhibited clientTransferProhibited https://icann.org/epp#clientTransferProhibited clientUpdateProhibited https://icann.org/epp#clientUpdateProhibited
DNS servers
NS0.DNSMADEEASY.COM 205.234.154.1
NS1.DNSMADEEASY.COM 208.80.124.2
NS2.DNSMADEEASY.COM 208.80.126.2
NS3.DNSMADEEASY.COM 208.80.125.2
NS4.DNSMADEEASY.COM 208.80.127.2

Site Response Header
Response
HTTP/1.1 200 OK
Server
Apache/2.2.9 (Unix) mod_ssl/2.2.9 OpenSSL/0.9.8e-fips-rhel5 mod_auth_passthrough/2.1 mod_bwlimited/1.4 FrontPage/5.0.2.2635 PHP/5.2.6
Date
Wed, 05 Aug 2009 06:00:36 GMT
Content-Type
text/html