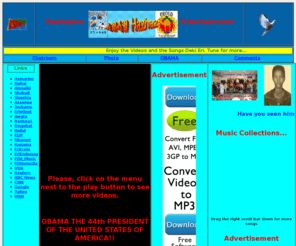 Eritrean Entertainment by Hazhazino
Description: Hazhazino Entertainment favorite site for music and videos of the Horn Africa: Eritrean, Ethiopian and world video and music collections.
Keywords: Hazhazino Entertainment, eritrea, eritrean, eritrean music, ethiopia, ethiopian music, africa, african music, african videos, tigrigan, tigrina, amharic, ethiopian songs, ethiopian video, eritrean video, eritrean comedy, teshamo, teshamo entertainment, teshamo music, asmarino, hazhazino, Eritrea, Eritrean Music, Social Networking, Asmara, hazhaz, Keren, Barentu, Tessenei, Massawa, Nakfa, Sahel, Yemane Barya, Yemane, Barya, Abraham, Afewerki, Sami, Berhane, Hagos, Elsa, Kidane, Helen, Meles, Keren, Red Sea, Ethiopia, Somalia, Horn of Africa, Africa, Sudan, Habesha, Abesha, Kunama, Tigre, Tigrigna, Saho, Afar, Hidareb, Hedareb, Rashaida, Arabic, Nara, Assab, Asseb, Enjera, eritrea news, eritrea map, eritrea flag, eritrea history, eritrea africa, Badme, Tsorona
Tags: hazhazino, eritrean, entertainment, music, deki, flag, peace, setstats, bird, proud, kahassay, pic, teshamo, videos, kunama, news, bbc, cnn, eriembassy, reuters, eritcom, google, yahoo, deqebat, msn, awate, obama, redsea, erietinet, beilul, shaebia, assenna, voa, ethiomedia, nharnet, shabait, edp, alenalki, ethi, dehai,
Hazhazino.com
Content Revalency: Title: 50.00% Description: 29.41% Keywords: 12.12% | Document size: 16,077 bytes
More info: Whois - Trace Route - RBL Check
HAZHAZINO.COM - Site Location
Country/Flag
United States
City/Region/Zip Code
Sunnyvale, California, 94089
Organization
Yahoo!
Internet Service Provider
Yahoo!
HAZHAZINO.COM - Domain Information
Domain
HAZHAZINO.COM [ Traceroute RBL/DNSBL lookup ]
Registrar
TUCOWS DOMAINS INC. TUCOWS, INC.
Registrar URL
http://www.tucowsdomains.com
Whois server
whois.tucows.com
Created
09-Apr-2008
Updated
15-Jun-2016
Expires
09-Apr-2017
Time Left
0 days 0 hours 0 minutes
Status
ok https://icann.org/epp#ok ok https://icann.org/epp#ok
DNS servers
YNS1.YAHOO.COM 66.218.71.205
YNS2.YAHOO.COM 66.196.84.168

Site Response Header
Response
HTTP/1.0 200 OK
Server
YTS/1.19.8
Date
Tue, 12 Apr 2011 04:03:44 GMT
Content-Type
text/html
Cookie
BX=a20r74t6q7jp0&b=3&s=jd; expires=Tue, 02-Jun-2037 20:00:00 GMT; path=/; domain=.hazhazino.com