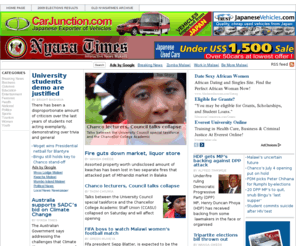 Malawi news | NyasaTimes breaking online news source from Malawi
Description: NyasaTimes Online is Malawi's award winning quality news source on the web offering breaking news and in-depth, analytical features,national, business, sports, political, columns, health, agriculture news from Malawi and Africa.
Keywords: NyasaTimes Online, Nyasa Times, Nyasa Times newspaper, Malawi breaking news, Nyasanet, nyasa newspaper, Malawi news, Malawi daily news, malawi business, sport, malawi, malawi politics, politics, malawi blogs, malawi forum, malawi community, DPP, MCP, UDF, Bingu, JZU, Bakili, Muluzi, Mutharika, Tembo
Tags: nyasatimes, malawi, news, breaking, online, source, car, japanese, view, filed, nyasa, posts, times, mvula, rss, trade, japan, cars, exporter, beforward, cross, mutharika, resize, used, lecturersunima, justice, bamusii, sexworker, business, arrested, read, bingu, malawian, politics, dpp, court, national, police, sports, features,
Nyasatimes.com
DMOZ Information
Nyasa Times
Online newspaper for Malawi including news, features, polls, photos, videos and comments.

Top/Regional/Africa/Malawi/News_and_Media
http://www.nyasatimes.com/

Nyasatimes.com has 1 URLs listed in 1 Dmoz categories.

Related Sites: Afrol.com , Allafrica.com , Stanford.edu , Bbc.co.uk , Topix.com , Radiostationworld.com , Nationmw.net , Kwachafm.com , Arjen-van-de-merwe.nl , Nytimes.com ,
NYASATIMES.COM - Site Location
Country/Flag
Netherlands
City/Region/Zip Code
, ,
Organization
LeaseWeb Netherlands B.V.
Internet Service Provider
LeaseWeb Netherlands B.V.
NYASATIMES.COM - Domain Information
Domain
NYASATIMES.COM [ Traceroute RBL/DNSBL lookup ]
Registrar
GODADDY.COM, LLC GoDaddy.com, LLC
Registrar URL
http://www.godaddy.com
Whois server
whois.godaddy.com
Created
05-Sep-2006
Updated
29-Aug-2015
Expires
05-Sep-2017
Time Left
0 days 0 hours 0 minutes
Status
clientDeleteProhibited https://icann.org/epp#clientDeleteProhibited clientRenewProhibited https://icann.org/epp#clientRenewProhibited clientTransferProhibited https://icann.org/epp#clientTransferProhibited clientUpdateProhibited https://icann.org/epp#clientUpdateProhibited clientTransferProhibited http://www.icann.org/epp#clientTransferProhibited clientUpdateProhibited http://www.icann.org/epp#clientUpdateProhibited clientRenewProhibited http://www.icann.org/epp#clientRenewProhibited clientDeleteProhibited http://www.icann.org/epp#clientDeleteProhibited
DNS servers
HUGH.NS.CLOUDFLARE.COM 204.93.173.11
ZARA.NS.CLOUDFLARE.COM 204.93.173.10

NYASATIMES.COM - DNS Information
IP Address
94.75.211.194 ~ Whois - Trace Route - RBL Check

Domain Name Servers
dns2.infinitedns.net
dns1.infinitedns.net
dns4.infinitedns.net
dns3.infinitedns.net
dns5.infinitedns.net

Mail Exchange
nyasatimes.com 104.25.240.108

Site Response Header
Response
HTTP/1.1 200 OK
Server
Apache/2.2.3 (CentOS)
Date
Fri, 15 Apr 2011 00:36:56 GMT
Content-Type
text/html; charset=UTF-8