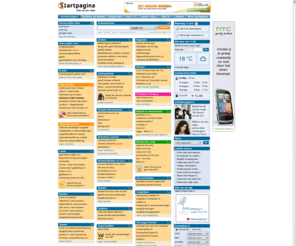 Startpagina.nl - alles op een rijtje! (ook op mobiel)
Description: De enige echte startpagina.nl biedt al ruim 12 jaar een overzicht van populaire websites in Nederland. Bekijk onze links en je bent altijd op de hoogte!
Keywords: startpagina, startpagina.nl, www.startpagina.nl, startingpoint, start pagina, starting point, geld, liefde, tvgids, tv-gids, gids, tv, vreemde, valuta, nieuwgroepen , teletekst, startpunt, start, punt, zoek, desktop, help, sport, auto, advertenties, zaken, gids, media, vakantie, studie, winkelen, muziek, wetenschap, vrije tijd, nieuws, nieuw, top, koopwoning, computer, hardware, software, verwijzing, links, toevoegen, url, site, wegenkaart, reisplanner, telefoonboek, wijzig, wonen, koopwoning, fiscaal, juridisch, gratis, zoeken, wintersport, voetbal, schaatsen, business, handel, klant, relatie, dagelijks, wekelijks, jaarlijks, vertrekpunt, links, start, zoeken, handig, search, info, leuk, leuke, tips, links, linktips, wegenkaart
Tags: startpagina, een, mobiel, alles, ook, rijtje, meer, verstuur, overzicht, van, naar, dochters, links, atm, cryos, instellingen, tip, sperm, zoekmachine, wijzigen, lees, verder, radio, jaar, altijd, voor, nederland, kids, categorie, blok, aanbieding, online, com, bent, echte, onze, bekijk, video, vakantie, biedt,
Startpagina.com
Content Revalency: Title: 50.00% Description: 44.00% Keywords: 38.36% | Document size: 202,463 bytes
More info: Whois - Trace Route - RBL Check
STARTPAGINA.COM - Site Location
Country/Flag
Netherlands
City/Region/Zip Code
, ,
Organization
Sanoma Digital the Netherlands b.v.
Internet Service Provider
Sanoma Digital the Netherlands b.v.
STARTPAGINA.COM - Domain Information
Domain
STARTPAGINA.COM [ Traceroute RBL/DNSBL lookup ]
Registrar
HOSTING CONCEPTS B.V. D/B/A OPENPROVIDER Hosting Concepts B.V. d/b/a Openprovider
Registrar URL
http://www.openprovider.com
Whois server
whois.registrar.eu
Created
16-Sep-1998
Updated
14-Sep-2015
Expires
15-Sep-2016
Time Left
0 days 0 hours 0 minutes
Status
ok https://icann.org/epp#ok ok
DNS servers
NS1.SANOMASERVICES.NL 62.69.184.14
NS2.SANOMASERVICES.NL 62.69.179.9
NS3.SANOMASERVICES.NL 46.34.93.38
ns2.sanomaservices.nl 62.69.179.9
ns1.sanomaservices.nl 62.69.184.14
ns3.sanomaservices.nl 46.34.93.38

Site Response Header
Response
HTTP/1.0 301 Moved Permanently
Server
Juniper Networks NitroCache/v1.0
Date
Sun, 17 Apr 2011 05:52:49 GMT
Content-Type
text/html; charset=iso-8859-1