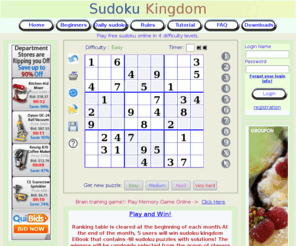 Sudoku Kingdom - Play free sudoku puzzles online
Description: Provides Sudoku puzzles for printing, or to play online. Select a puzzle by difficulty level, time constraints, or simply print out a puzzle to take with you on a trip.
Keywords: Sudoku online, play soduko , print sudoku , easy sudoku, very hard sudoku, simple sudoku, advanced sudoku, web sudoku, free sudoku, sudoku print, sudoku on line, sudoku printouts, Solving sudoku, sudoku board, su doku, Soduko, Suduku, suduko, Soduku, Play and win sudoku ebook, download free sudoku puzzles.
Tags: sudokukingdom, sudoku, online, play, puzzles, free, kingdom, puzzle, print, radio, toolbar, counter, saudi, arabia, apr, alarm, clock, win, player, download, comments, ranking, table, game, click, listen, join, list, link, playing, registration, stop, kong, start, button, pointer, undo, federation, denmark, russian,
Sudokukingdom.com
SUDOKUKINGDOM.COM - Site Location
Country/Flag
United States
City/Region/Zip Code
Scottsdale, Arizona, 85260
Organization
GoDaddy.com, LLC
Internet Service Provider
GoDaddy.com, LLC
SUDOKUKINGDOM.COM - Domain Information
Domain
SUDOKUKINGDOM.COM [ Traceroute RBL/DNSBL lookup ]
Registrar
GODADDY.COM, LLC GoDaddy.com, LLC
Registrar URL
http://www.godaddy.com
Whois server
whois.godaddy.com
Created
10-Feb-2006
Updated
11-Feb-2017
Expires
10-Feb-2018
Time Left
111 days 19 hours 0 minutes
Status
clientDeleteProhibited https://icann.org/epp#clientDeleteProhibited clientRenewProhibited https://icann.org/epp#clientRenewProhibited clientTransferProhibited https://icann.org/epp#clientTransferProhibited clientUpdateProhibited https://icann.org/epp#clientUpdateProhibited clientTransferProhibited http://www.icann.org/epp#clientTransferProhibited clientUpdateProhibited http://www.icann.org/epp#clientUpdateProhibited clientRenewProhibited http://www.icann.org/epp#clientRenewProhibited clientDeleteProhibited http://www.icann.org/epp#clientDeleteProhibited
DNS servers
NS1.SUDOKUKINGDOM.COM 72.167.113.157
NS2.SUDOKUKINGDOM.COM 72.167.113.157

Site Response Header
Response
HTTP/1.1 200 OK
Server
Apache/2.2.6 (Fedora)
Date
Sun, 17 Apr 2011 07:57:12 GMT
Content-Type
text/html; charset=UTF-8
Cookie
PHPSESSID=mm2r6nmeasqkitl11cngfpgvv2; path=/