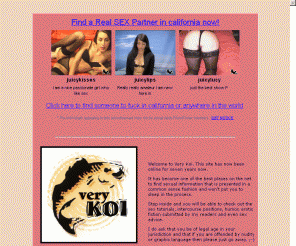 Koi's home of sex tutorials, sexual positions, erotic fiction, humor, reviewed links.
Description: A huge site, encompassing sex tutorials, sexual positions, free pics, reviewed links, adult chat, erotic fiction, adult humor, and visitor pics.
Keywords: amateure, nude, sex tutorials, sexual positions, adult humor, erotic fiction, adult, adult chat, erotic, erotic stories, links, pictures, sex, photos, amateur, mature women
Tags: koi, very, net, erotic, sex, humor, fiction, positions, sexual, tutorials, links, reviewed, this, home, rule, ltd, enter, girls, fat, media, adult, pics, chat, site, has, one, check, out, now, huge, free, encompassing, visitor, women, mature, pictures, amateur, stories, photos, nude,
Very-koi.net
Content Revalency: Title: 53.85% Description: 42.11% Keywords: 38.89% | Document size: 6,240 bytes
Quantcast: #73,314 More info: Whois - Trace Route - RBL Check
DMOZ Information
Very Koi
Sex tutorials, positions, fiction, humor, advice and reviewed links.

Top/Adult/Society/People/Women
http://www.very-koi.net/

Very-koi.net has 7 URLs listed in 6 Dmoz categories.

Related Sites: Hensnightout.com , Sexforwomen.net , Myfemalesexuality.com , Vixpix.org , Thebigvagina.com , Pukka.net , Vaginainstitute.com , Oneopinionatedbitch.com , Fetishexchange.org , Primex.co.uk ,
VERY-KOI.NET - Site Location
Country/Flag
Canada
City/Region/Zip Code
Calgary, Alberta, T2P
Organization
Wolfpaw Services
Internet Service Provider
Shaw Telecom G.P.
VERY-KOI.NET - Domain Information
Domain
VERY-KOI.NET [ Traceroute RBL/DNSBL lookup ]
Registrar
TUCOWS DOMAINS INC. TUCOWS, INC.
Registrar URL
http://www.tucowsdomains.com
Whois server
whois.tucows.com
Created
14-Mar-1998
Updated
08-Aug-2015
Expires
13-Mar-2016
Time Left
0 days 0 hours 0 minutes
Status
clientTransferProhibited http://www.icann.org/epp#clientTransferProhibited clientUpdateProhibited http://www.icann.org/epp#clientUpdateProhibited clientTransferProhibited clientUpdateProhibited
DNS servers
NS1.COYMEDIA.COM 66.244.199.63
NS2.COYMEDIA.COM 66.244.199.64

Site Response Header
Response
HTTP/1.1 200 OK
Server
Microsoft-IIS/5.0
Date
Tue, 16 Jun 2009 11:21:26 GMT
Content-Type
text/html